Alfresa Group
at a Glance
Alfresa Group's overview for your quick understanding
The name "Alfresa" combines
the English word "all" with
the Esperanto word "fresa," which means "fresh."
Group Companies
Ethical Pharmaceuticals Wholesaling Business
Self-Medication Products Wholesaling Business
Manufacturing Business
Medical-Related Business
Information System Business for the Alfresa Group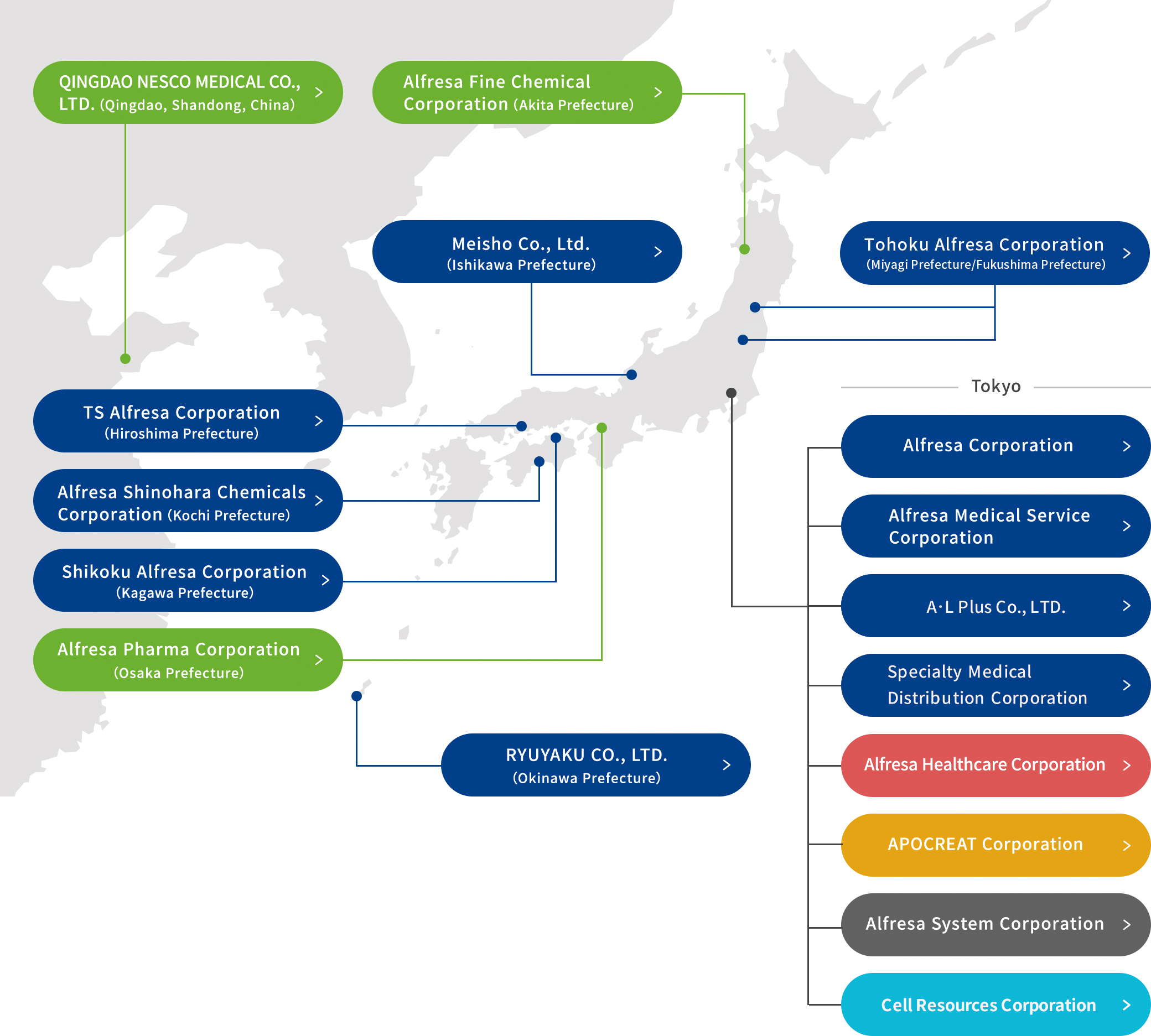 Providing products and services in every health-related field Becoming a Healthcare Consortium
We aim to become a Healthcare Consortium that provides products and services in every health-related field. To that end, we strive to be a corporate group that is a close partner in people's life journeys, capable of displaying its manufacturing, wholesaling, distribution, family pharmacy, and information provision functions to the fullest.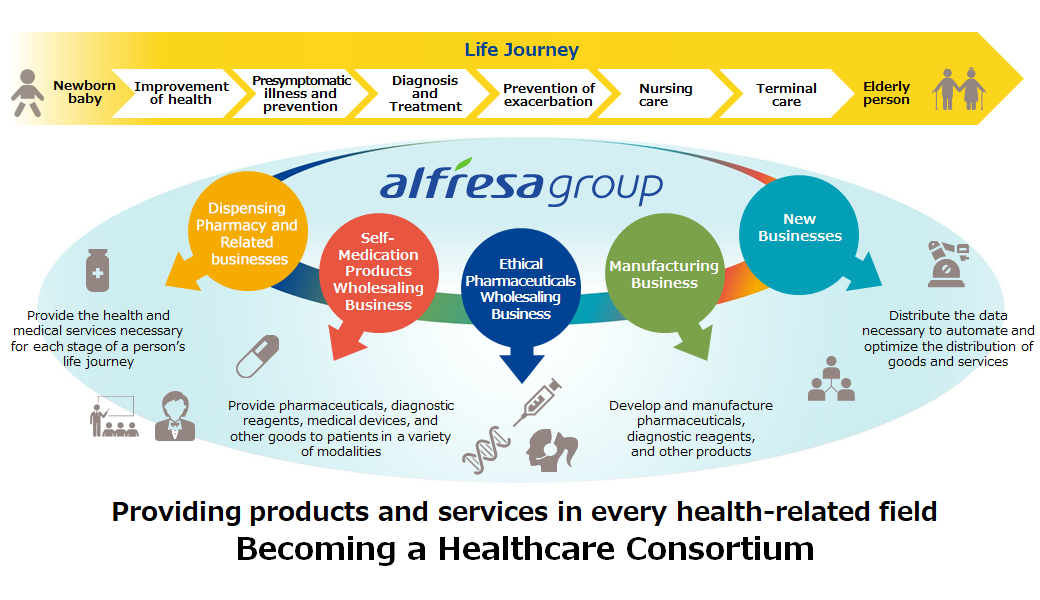 Alfresa Group's Data
Group Management Results
Operating Income Margin1.12%

Profit Margin Attribute to
Owners of the Parent0.96%

Total Assets1,339.8billion yen

Owner's Equity Ratio36.4%

Earnings per Share127.42yen
Business Foundation
Shareholder Return
Dividend on Equity Ratio2.4%

Total Shareholder Return82.7%
●The figures shown are as of March, 2023.
* According to the latest edition of

Pharmaceuticals Industry Rankings

(Drugmagazine Co., Ltd.)
Alfresa Group's Strength
Robust distribution system

We are effectively positioning our distribution centers with high processing capabilities and building a distribution platform that meets the needs of customers such as hospitals, dispensing pharmacies, and drugstores through a nationwide network of branches and offices.

Relationships of trust with customers and suppliers

We have established a position as the No. 1 ethical pharmaceuticals wholesaler in net sales by building up wide-ranging transactions with pharmaceutical and medical equipment manufacturers, and strong relationships of trust with customers. We also aim to create new value by serving as a connection between medical care, nursing care, local government, and others.

Human resources that support high productivity

The entire Alfresa Group is keen to review routine work and utilize new technologies. By increasing efficiency in existing work processes, we aim to improve productivity by reallocating management resources to new endeavors.

Group synergies from broad business domains

We have built a supply chain for pharmaceuticals and other products that spans from manufacturing to wholesale and final delivery of medicine to patients at dispensing pharmacies. By utilizing this supply chain, we also operate a wide range of businesses, including the prevention of disease, as well as curing, diagnosis, and treatment procedures. We will maximize synergies between each business segment.
What We Value
The Alfresa Group
considers its valuable people
to be the true driver for sustainable growth into the future
To create and deliver a fresh life for all, we are working
to develop talent who flexibly respond to all medical needs,
have willingness to challenge and continue to grow.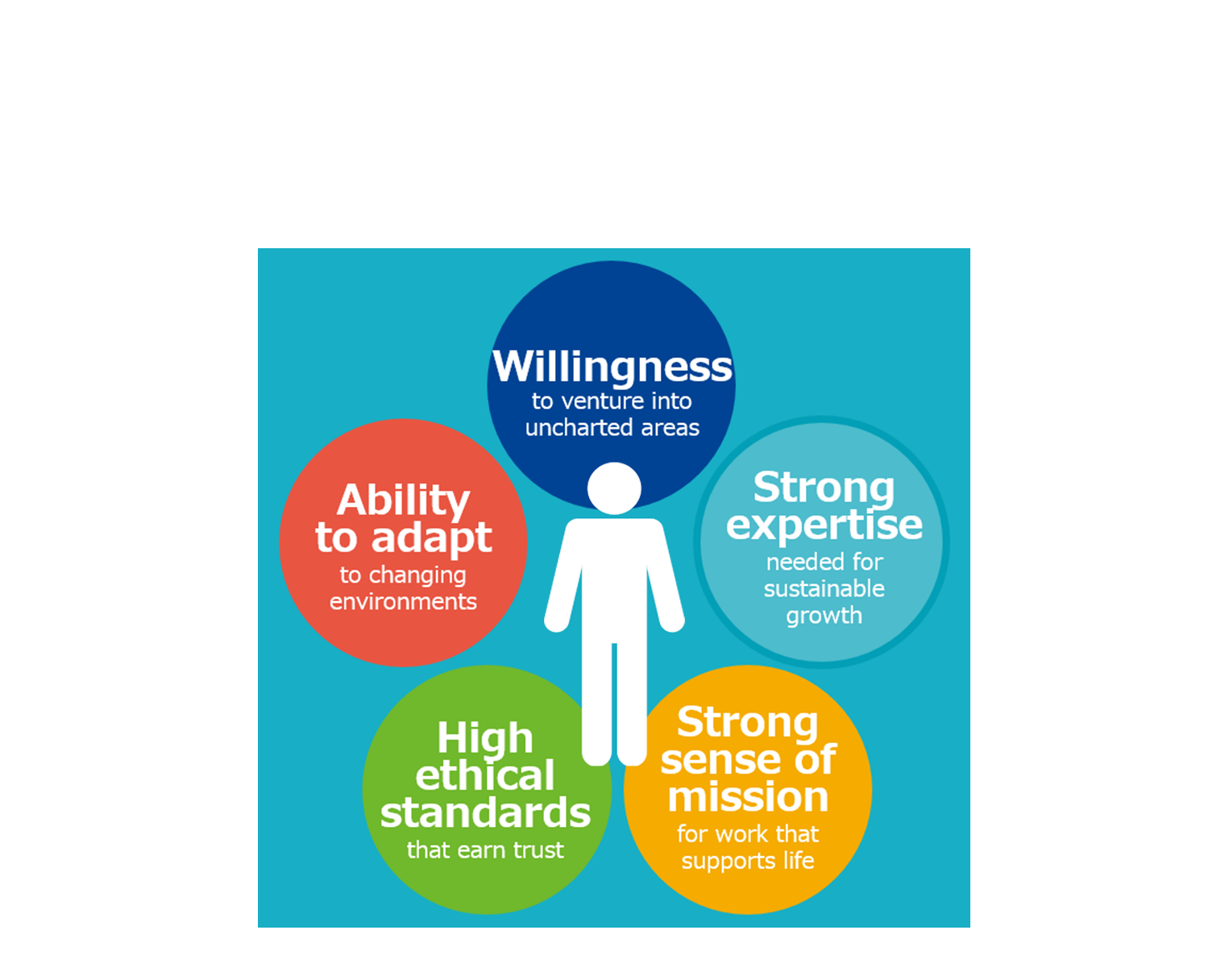 Promote the Alfresa Group's Diversity Policy, established in 2020
Establish career paths that go beyond segments
Enhance recruitment activities
Enhance human resource development
Promote the success of women
Utilize junior and senior employees
Introduce systems that accommodate a variety of life stages