Engaging with Customers and Suppliers
Basic Policy for Engaging with Customers
The Alfresa Group strives to ensure a stable and safe supply of products and services and to provide appropriate information so that all customers can use pharmaceuticals with peace of mind. The Group also works to practice appropriate business transactions in a spirit of fair and transparent competition in order to earn trust and maintain good relationships with customers.
Ensuring a Stable Supply of Pharmaceuticals
Quality Management in the Distribution of Ethical Pharmaceuticals
The Group implements thorough quality management methods in the distribution process of pharmaceuticals in order to deliver drugs without any errors to the healthcare facilities where they are needed. All pharmaceuticals are kept at separate locations according to their characteristics and stored with the appropriate temperature controls. The Group also uses state-of-the-art logistics facilities to prevent shipping errors and ensure delivery. The Group implements PDCA cycles for process improvement at its distribution centers and other facilities. This makes the product shipment process even more efficient and accurate and maintains product quality. The Group also ensures each product's traceability using a lot number management system.
Advanced Temperature Control Logistics
We developed transportation and delivery materials "alf-GDP-(R)Shipper" and "alf-GDP-(R)Container" for refrigerated pharmaceuticals that complies with the international standards PIC/S GDP*. They enable strict temperature control to maintain a constant temperature range not only in summer season but also in winter season and realize high quality transportation and delivery. "alf-GDP-(R)Shipper" is a special chiller box used in refrigerated pharmaceuticals' delivery mainly to medical institutions and dispensing pharmacies. "alf-GDP-(R)Container" is a special container for transportation between distribution bases. They, collectively named "alf-GDP-(R)Solutions," are utilized in advanced temperature control logistics and contribute reliable, safe, and high-quality pharmaceuticals distribution.
*PIC/S GDP (The Pharmaceutical Inspection Convention and Pharmaceutical Inspection Co-operation Scheme Good Distribution Practice): The international standards for temperature control, hygiene control, and the preparation of various procedure manuals in the pharmaceuticals distribution process.
alf-GDP-®Container

alf-GDP-®Shipper
Complying with International Quality Control Standards
The Group's Manufacturing business complies with diverse laws and regulations and international codes in order to ensure stable manufacture of high-quality pharmaceuticals, diagnostic reagents and medical devices. These include Good Manufacturing Practice (GMP, a standard for manufacturing and quality management for pharmaceuticals, etc.), ISO 9001 and ISO 13485, the Quality Management Standard (QMS) Ordinance for medical devices (an ordinance on standards for manufacturing and quality management for medical devices, etc.), and CE marking (a mark indicating that a product complies with EU safety standards). The Group also implements thorough quality management for the active pharmaceutical ingredients (APIs) that it manufactures and sells as well as the products it manufactures on consignment from other pharmaceutical companies. Alfresa Medical Service Corporation, which supplies SPD* services that integrate management of processes from purchasing through distribution and consumption for pharmaceuticals and medical supplies within medical institutions with a view to rationalization and streamlining, has obtained ISO 9001 certification. The corporation strives to improve and upgrade its service quality in various ways, such as holding regular meetings with customers.
Obtaining Certifications for International Quality Control Standards
ISO 9001

(International standard with specifications for product and service quality management systems)

Alfresa Pharma Corporation's Chiba Plant
Alfresa Medical Service Corporation

ISO 13485

(International standard with specifications for medical device quality management systems)

Alfresa Pharma Corporation's Chiba Plant,
Okayama Pharmaceutical Plant and Ibaraki Research Center
Quality Assurance Systems in the Manufacturing Business
Each Group company in the Manufacturing business has established systems for assuring its products' reliability across the product lifecycle—from research and development through production, sales and post-marketing.
■Product Reliability Assurance System [Alfresa Pharma Corporation]
Group companies implement thorough management of safety and quality. Product recalls for pharmaceuticals and other products are handled appropriately, for instance, by publishing information on the corporate website.
Initiatives to Improve Customer Satisfaction
Responsible Marketing Promotion
The Group provides information through medical representatives (MRs), marketing specialists (MSs), and dispensing pharmacies to ensure that pharmaceuticals and medical devices are used properly. The Group acts in accordance with the Group's principles in promotion activities, ensuring compliance and working from a highly ethical perspective. In the Ethical pharmaceuticals wholesaling business, the Group serves as a bridge connecting customers with suppliers by providing customers with the latest information on the healthcare system and hearing from customers about the efficacy and side effects of pharmaceuticals. This information is provided as feedback to suppliers and thereby helps to contribute to better healthcare.
Customer Support
The Alfresa Group supports customers on the medical frontline in diverse ways, including provision of the latest information on medical care and pharmaceutical products in addition to IT and management support and inventory management.
In terms of IT support, the Group has many systems equipped with functions that streamline inventory, order receipt and issuance, and provision of a range of information to meet the diverse needs of customers.
Examples of IT System Support Provided
Ethical Pharmaceuticals Wholesaling Business

alf-web

Web service for providing comprehensive service to medical institutions, including provision of medical care information and medical service management information, and online ordering function

SAFE-DI

Web service for providing information on pharmaceutical products

Self-Medication Products Wholesaling Business

alf-net

Web service for providing online ordering function and information on various products, sales promotion, and marketing information
Exhibiting at Various Events and Holding In-house Events
The Alfresa Group exhibits at events and holds in-house events for medical care providers, wholesalers, drugstores, etc. This creates valuable opportunities to host many visitors and let them know about the Group's product lineups and services.
The events are important forums that allow direct interaction with customers. By exhibiting at events and holding in-house events, the Group strives to make its relationships with customers even stronger and add value for the Group.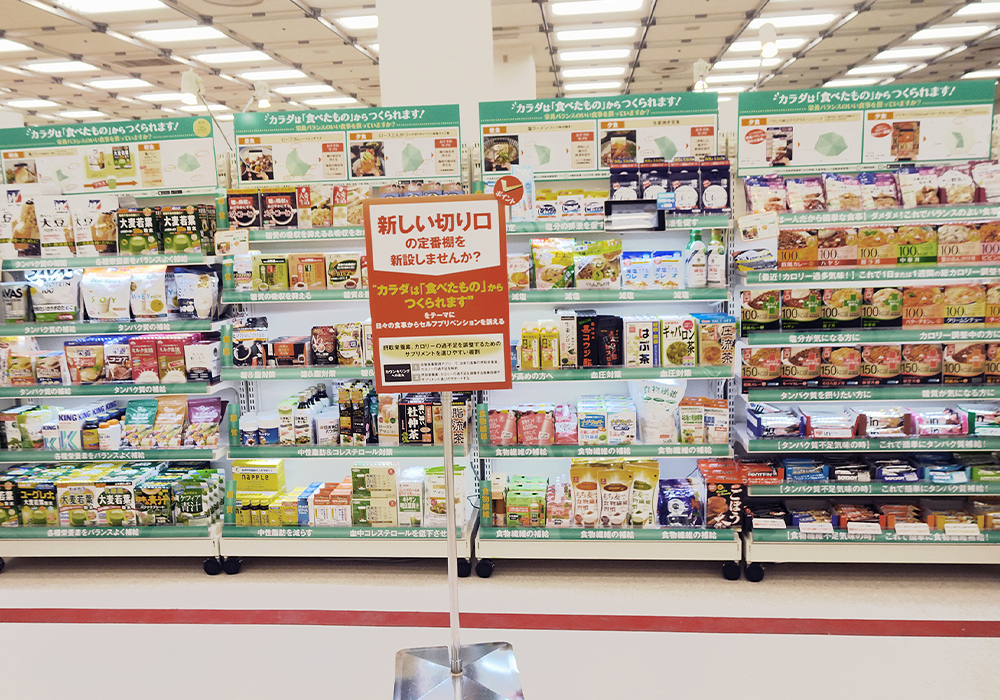 Appropriate Management of Customer Information and Education
The Alfresa Group recognizes that protecting personal information properly is an important social mission pertaining to its business activities and works to protect personal information based on the Alfresa Group Privacy Policy below.
Learn more about information management initiatives
Alfresa Holdings Corporation provides training sessions on information security regularly once a year for all employees, including fixed-term and temporary employees, so that they can learn about countermeasures and precautions to take, referring to recent cases of information leaks, and thereby seeks to ensure appropriate information management.
Basic Policy for Engaging with Suppliers
The Alfresa Group treats all of the suppliers it engages in business with as partners in realizing the Group's principles and aims to work together with them to adapt to both changing times and emerging demands from society. This is precisely why the entire Group also works hard to ensure the practice of fair transactions and competition.
Alfresa Group's Supply Chains
The Alfresa Group has developed different supply chains for each business segment to procure diverse raw materials and products appropriately.
See Our Business for more details
Communicating with Suppliers
To ensure our suppliers understand the direction of the Group's business strategies more deeply and work to help achieve management goals, Group companies hold regular meetings with their suppliers to update them about sales policies and business conditions. Group companies also hold financial results briefing sessions and other events for suppliers in order to ensure smooth communication with them.
In-House Education for Fair Procurement
The Alfresa Group Compliance Handbook sets out a prohibition on abusing any position of advantage in consignment of business, and raises awareness about complying, as a parent enterprise, with the obligations stipulated under the Act against Delay in Payment of Subcontract Proceeds, etc. to Subcontractors, and about not engaging in prohibited conduct.