Our Business

Medical products, starting with the pharmaceuticals that are prescribed at hospitals and dispensed at dispensing pharmacies, play a vital role in maintaining people's health and lives.
The Alfresa Group is engaged in a range of business fields, including the manufacture and wholesale of pharmaceuticals and other products to the operation of dispensing pharmacies. The Group works as one to support the pharmaceutical supply chains that are part of Japan's social infrastructure, and strives to meet the full range of medical needs.
Providing products and services in every health-related field Becoming a Healthcare Consortium
We aim to become a Healthcare Consortium® that provides products and services in every health-related field. To that end, we strive to be a corporate group that is a close partner in people's life journeys, capable of displaying its manufacturing, wholesaling, distribution, family pharmacy, and information provision functions to the fullest.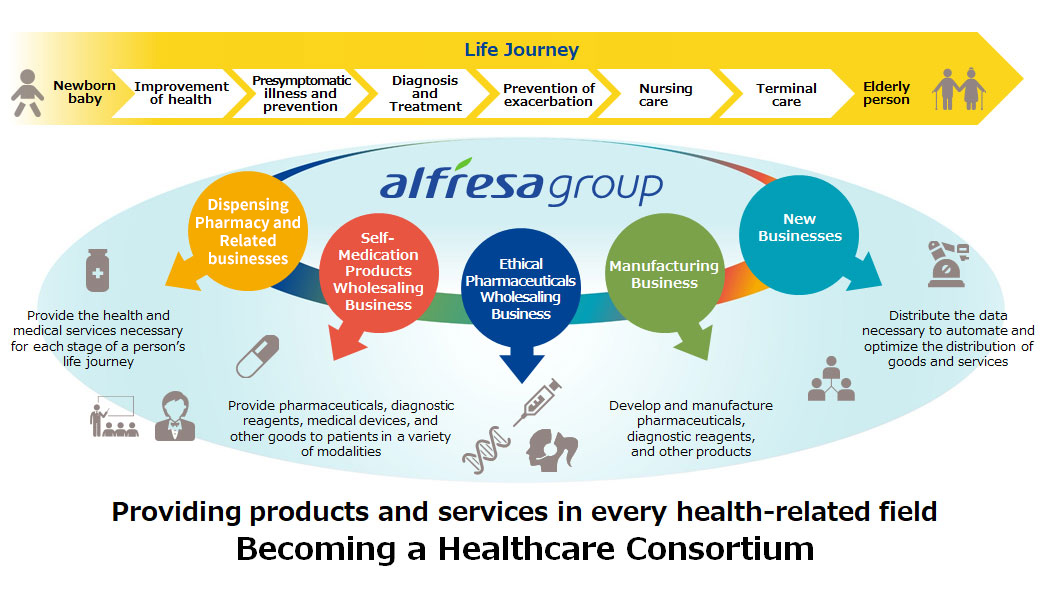 Toward Building a Local Community Health and Medical Care Platform
To increase the sustainability of social security in a super-aged society, the Ministry of Health, Labour and Welfare (MHLW) seeks to enable local governments to take the lead in creating the Community-based Integrated Care System responsive to regional characteristics that provides not only medical and nursing care but also housing, preventive care, and living support services as an integrated system.
In step with these environmental changes, the Alfresa Group aims to act as a bridge connecting various players in the Community-based Integrated Care System, such as local governments and medical institutions, and to evolve into the role of a provider of comprehensive support for community healthcare.
Click here for more details.